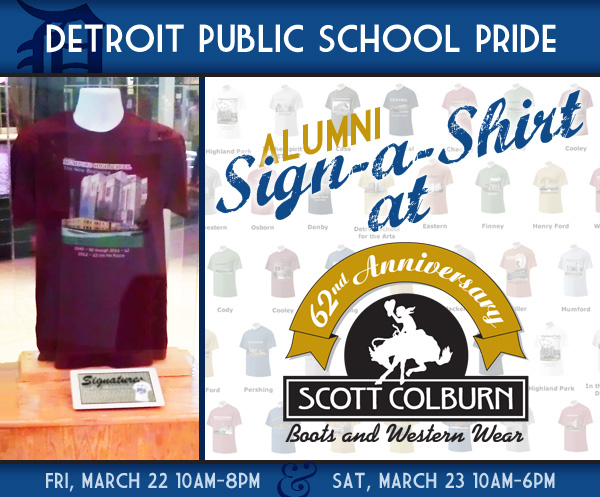 HELP US MAKE HISTORY!
A one-of-a-kind collection of T-shirts, autographed by proud, Detroit Public School Alumni will begin a two year tour of the metro area's museums, shopping malls, and office complexes starting April 29th.
The T-shirts bear photographs of beloved school buildings that are currently operating, closed permanently, or have been razed to the ground.
Before the tour begins, alumni from all DPS high schools and all graduating class years are encouraged to sign their name and the year they graduated on their alma mater's t-shirt.
ON MARCH 22ND & 23RD, SEVERAL OF THESE SHIRTS WILL BE AT SCOTT COLBURN BOOTS & WESTERN WEAR FOR SIGNING!
The collection already boasts over 5,000 autographs. You'll spot signatures from well-known DPS grads, such as Sheriff Benny Napoleon (Cass Tech), Attorney Gene Zamler (Mumford) of Zamler, Mellen & Shifman, Congressman John Conyers (Northwestern), Former U.S. Congressman Hansen Clarke (Cass Tech), and many others. Our very own Sarah Colburn, a Cooley alum, will be adding her signature to the collection!
There's NO CHARGE for admission or to sign your name into history.
CLICK HERE TO READ ALL ABOUT IT ON THE OFFICIAL TOUR WEBSITE


T-SHIRTS WILL ALSO BE AVAILABLE FOR PURCHASE FOR THE FOLLOWING SCHOOLS:
Cass Tech, Cody, Cooley, Henry Ford, Mackenzie, Mumford, and Redford High Schools
(Available in sizes Small – 3XL)