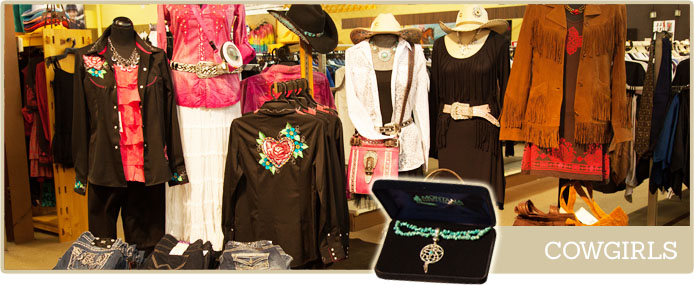 Our cowgirl fashions run from sleek and conservative to fringed, embroidered, and sparkling! We also help you accessorize in style with colorful, leather handbags, bling belts, sterling silver jewelry, and crystal-studded hats. You'll look and feel beautiful!

BOOTS
  Our exquisite selection of studded, embroidered, exotic, and traditional boots hail from top-selling companies like Boulet, Ariat, and Justin.

HATS
  Sweet or sassy. Dress or casual. We offer a colorful variety of straw, wool, cloth, and leather hats to compliment every look and style.

BLING BELTS
  For the urban and working cowgirls alike, our glittering rhinestone belts make the perfect accent piece for your favorite outfits.

WESTERN WEAR
  Southwestern flair and contemporary fashion combine stylishly in our women's apparel and outerwear sections.

JEWELRY & ACCESSORIES
  Our cases house striking pieces from Montana Silversmith, De La Luz, Vogt sterling silver, and more.

PURSES
  You'll be wowed by our gorgeous collection of handcrafted, leather handbags and luggage from American West and Lou-ella.