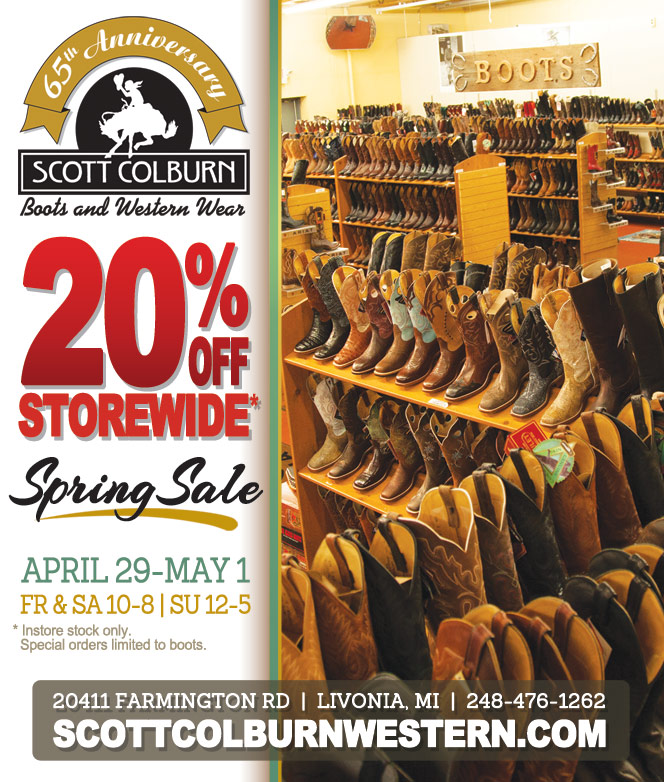 STOREWIDE SALE THIS WEEKEND!
Our long-awaited Spring Sale runs this Friday-Sunday, and promises to be one of our best events to date! You'll enjoy 20% off storewide, PLUS…
Meet a Rodeo Queen
MSU Rodeo Queen Claire will be bringing glitz and glamour to our shop, riding in full queen gear and signing autographs on our front lawn!
Browse Our Boot Trunk Shows
Two of our most popular boot brands – Boulet and Sonora – will be showcased at our event by reps from each company. You'll be able to check out full lines of their best and trendiest boot styles!
Meet Our Wrangler Rep – NEW!
For the first time ever, stop in to meet the representative for Scott Colburn Boots & Western Wear's beloved Wrangler apparel line.
Learn about the newest trends in Western Wear!
Take a Photo with the Renaissance Riders 
A favorite fixture of Scott Colburn Boots & Western Wear events, the
Rennaisance Equestrian
riders will be parading horseback across our lawn during this weekend's festivities.
SPRING SALE: APRIL 29 – MAY 1 ~ ~ ~ Fri-Sat 10-8  |  Sun 12-5